Jerusalem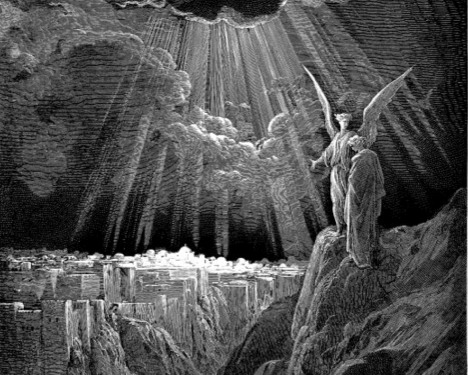 Permission is granted to reprint the following article as long as no changes are made and the byline, copyright information, and the resource box is included. Please let me know if you use this article by sending an email to dje@newedisongazette.com.

Jerusalem

Copyright © March 8, 2012 Douglas W. Jerving.
All Rights Reserved.


"But Jerusalem which is above is free, which is the mother of us all."
--Galatians 4:26.
Jerusalem, Jerusalem, thou queen of hearts and mine,
I seek from thee eternity as do all hearts divine.
I long for you as my first city enduringly sublime
Above the nations of the earth, and yet ours in God's time.

O heavenly city of the kings given to the slaughter
I stand and pray on your behalf as your beloved daughter,
In faith I realize that earthly things do matter
But eternal love for you, my Sister, set off all that latter:

For you above are free and home to your dear refugee.
Though cast off of this world now I am your citizenry.
I may not fit these old worn paths except in effigy,
But Zion I ascend your hills, though in this elegy.

Rewarded not in this earth's terms of any saving face
I seek and know the love of God and His lasting embrace.
I know the King! And His dear wife made possible by grace
I am now part, and that, this earth can never more deface.

Jerusalem! Jerusalem! Thou shining city still
Shall endure for ever more "The city on the hill
Of God's own heart". Enduring covenant.
And 'til that day, toward you I ever pitch my tent.

I was inspired to write the above poem by reading the poem of the same name by William Blake (1757-1827). In 1973 the progressive rock band Emerson, Lake and Palmer recorded a version of Blake's poem as the opening piece of their LP album Brain Salad Surgery. The musical score apparently was that of Hubert Parry. Despite Greg Lake's obvious antipathy to Christianity, his love for the classics brought that amazing hymn to the knowledge of many in my generation. Thank you, Greg Lake, for exposing my generation to this powerful piece of Christian literature.

Blake's poem was the preface to his tribute to John Milton, the author of Paradise Lost, and Paradise Regained, both classics of Christian literature. Note that Blake's poem is written in iambic lines of four accented beats, and not the iambic pentameter of Milton, probably in deference to the great poet. My poem is written in iambic septimeter, using seven accented beats per line. Since seven is the number of perfection in Biblical thought, this seemed appropriate to me since my subject matter is more transcendent, as opposed to Constantinian. Hubert Parry later adapted Blake's poem as a hymn in the Anglican (English) Church (although this point remains debatable). Read Blake's poem below:

Jerusalem

And did those feet in ancient time
Walk upon England's mountains green?
And was the holy Lamb of God
On England's pleasant pastures seen?

And did the Countenance Divine,
Shine forth upon our clouded hills?
And was Jerusalem builded here
Among these dark Satanic Mills?

Bring me my bow of burning gold!
Bring me my arrows of desire!
Bring me my Spear! O clouds, unfold!
Bring me my chariot of Fire!

I will not cease from mental fight,
Nor shall my sword sleep in my hand,
Till we have built Jerusalem
In England's green and pleasant land.

Many scholars suggest that Blake's "Satanic Mills" refer to early industrialization in England. Theologian N.T. Wright believes it is far more likely Blake was referring to the established hierarchy of the Church of England. The latter interpretation seems probable in light of Blake's opposition to organized religion. On the other hand, Greg Lake probably used the poem in opposition to the military-industrial complex of the post-modern world. That theme ("concept" in progressive rock terminology) underlay the entire Brain Salad Surgery album, as well as many of ELP's other works.



------------------------

Doug Jerving is the publisher of the NewEdisonGazette.com. You may contact him at dje@newedisongazette.com.

=================================







Return to The New Edison Gazette main site.