Newest Work From 2013-2017 by Doug Jerving
From 2013 to the present I have been working exclusively in the studio as opposed to plein aire.
I have nearly abandoned oil work, which dominated my first fifty years, and have been experimenting
with various watermedia. Most of my new work is acrylic on canvas, although I have also played with alkyds
and collage. I have moved strongly in the direction of semiabstraction and nonrepresentationalism.
I feel there is often greater power and emotional authority in these works that I did not find in
representational art.


I have also begun experimenting with digital art, and small iron sculptured works. I have included the
best examples of both of those media below.


Last, I am adding two more groups: my installation art and my online comic art.




Click on any picture to view it in high resolution.



Works on canvas and other non-digital work.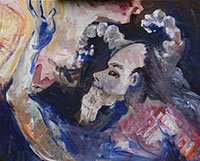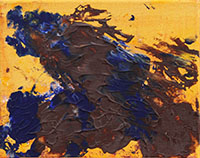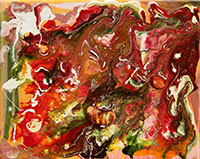 Digital Art.




The majority of my digital work is figurative.

Figure work has always been my greatest shortcoming. With the advent of quality sites like Croquis Cafe
the figure is now on line and I try to do some drawing from the model at least a few times a week. I am
using Sketchbook Pro for basic sketch work and Photoshop for painting and more detailed
design. All my digital art is created using a Wacom Intuis Pro tablet. I do occasionally use
Sketchbook Pro on my Samsung Note 5 phone using the S-pen with nice results.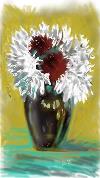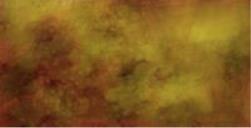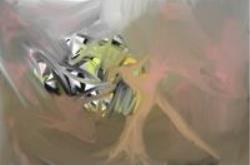 Iron Sculptings.




These are small abstract sculptures created using found and cut iron scraps.

Typically, I cut and weld found pieces into designs that appeal to me. In some cases,
I will fire them with a torch until they are glowing red, and then allow them to cool to
create a blackened patina. In other works, I simply set them outside so that they rust,
which is the desired patina.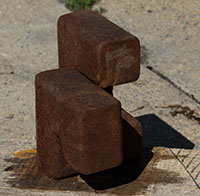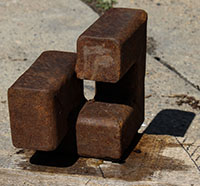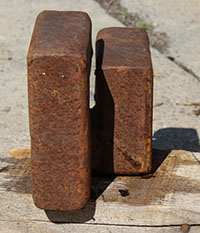 Installations.




Some of these were backdrops for stage events. Others were small moving pieces placed
in a larger staged event.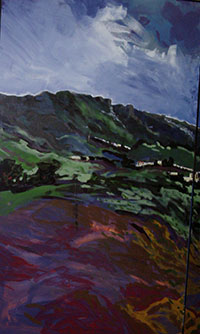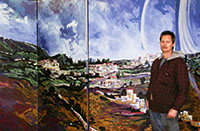 The Bethlehem Landscape group was created as a backdrop for a series of small dramatic
performances about the birth, death and resurrection of Jesus Christ. They were painted on
hinged flat door panels using acrylic paint and latex house paint. The small painting
Jerusalem Landscape was done as a study for these panels.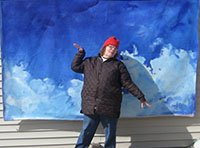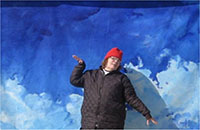 Blue Heavens was created as a backdrop for a floral show. I painted it on a large
painters' dropcloth on the floor of my studio. Unfortunately, the commissioned work
was never used. I have no idea what became of the original piece. It was entrusted to
a supposed confidant, and I don't know if it was ever delivered to the florist who
commissioned it. I was never paid or acknowledged for my work. That is the life of
too many artists. "Die first. Then if I have not already thrown your work in the trash
I might make a bit of money off your shit and benefit your grand-children."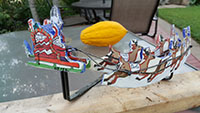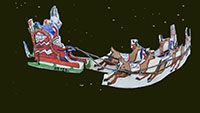 The Rocket Sled was a small revolving carousel intended to sit on the top of a
Christmas Tree where most people put a star. It was powered by a small 120v motor.
The Rocket Sled was used once for a Christmas party at the company I am now employed.
The sled depicts Saint Nicolas with gifts in the trunk of a rocket powered sleigh.
On board with him is a digitally enhanced Fay Wray, who he has apparently recently
saved from the clutches of King Kong. The reindeer each have their names emblazoned
upon their bridles. They are, from back to front, and left to right, Dachshund,
Dante, Comment, Pringle, Krupa, Vista, Dander, Blizzard, and Randolph.




Online Comics.




These are a few of my comic attempts.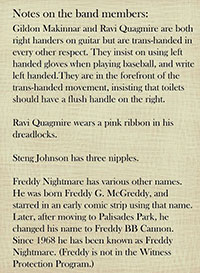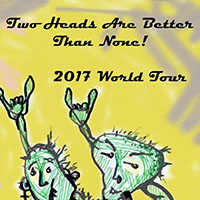 The Freddy Nightmare Machine is a band without history that somehow gained history
after they "appeared" for a gig at the 2016 Jerving Family re-union. They appeared
again the following year at the 2017 re-union due to the overwhelming response from their
fans. They are tentatively planning to make the re-union a regular part of their scheduled
events despite their heavy tour schedule for the next five years. The Freddy Nightmare
Machine is sponsored by Lazy Dog Productions and D.J. Enterprises.
Other support is provided by American Amateur Pit Masters (see us on Facebook)
and all of our fans over the last forty years.

Life is never better than when you make it work.
Until that time your restaurant is just a salad jerk.
So get behind the mind and find your own gua camolie.
It can't be's bad as the guy next door!

It can't be's bad as the gal next floor.
It can't be's bad as the guy next shore.

It can't be's bad as the guy next door.
Get up an' do your thing!
Get up now and do your thing!



From the Freddy Nightmare Machine, Get Up and Do It, 1971.